This little guy has been sitting in a tree outside of our office at work for the past week or so. Or at least that's the first I've noticed of him. Baby Great Horned Owl. My battered four-megapixel camera did not take this picture.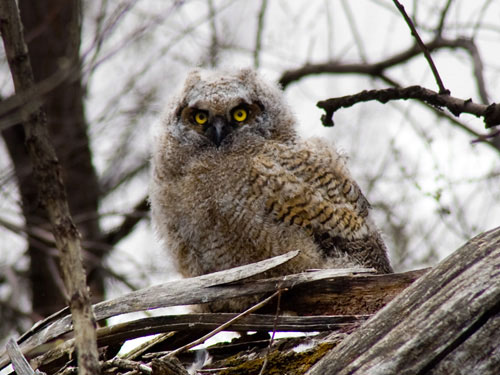 Speaking of things that just sit there and don't drive in runners from second base, how about those Tigers? $138 million doesn't go quite as far as it used to I guess. That vaunted Murder's Row is hitting .235, has only scored 15 runs, and is now 0-7 on the year.
This past week I read a two different articles on the state of Cubs' fans in the face of constant disappointment. I don't remember what the first article was about, but the second one talked about how constant failure can actually have a soothing effect on the brain. How when you don't have to worry about the outcome (as fate has already determined that it's only a matter of time until something Bartman-esque comes along) that you can settle back focus on the aesthetic minutia. Basically it was saying that Cub fans have more fun rooting for the Cubs, than say Yankee fans rooting for the Yankees.
When the season started this year I felt far too much like a Yankee fan, ready to scream for blood when the $60 million man doesn't pull his weight. It's no fun being the big money thug, especially when you're losing. Where's Milt Cuyler?