How to stay warm on a chilly winter day. Step 1: Put on a stocking cap and wrap yourself in a blanket. Step 2: Ask your husband to throw a pile of piping warm clothes (fresh from the dyer) on top of you. Step 3: Wait for your goofy dog to plop down on top of the warm pile of clothes on top of you to take a nap.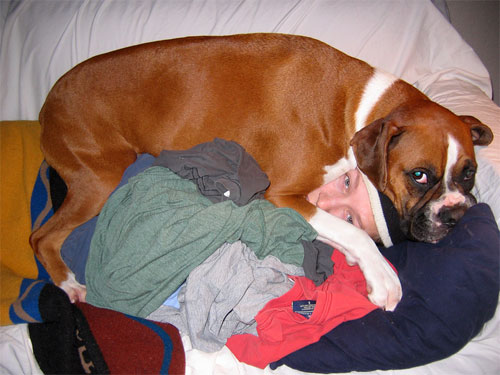 This didn't last too long though due to all the face smothering and all. Seriously, the thermostat was set for 65; I don't know what the big deal was. I remember loving to open my dorm windows at Calvin in the middle of winter as the snow wafted through the mesh. I guess girls don't get into that sort of thing.
Actually the weather's been much nicer here lately. Near record lows replaced by sunny skies and that wet fluffy snow that's good for snowball packing. Mary and I have been enjoying the few extra days off from work for the holidays. We went to a fun, laid-back Christmas party with Mary's boss's family on Christmas, but have otherwise been laying low. I've been catching up on my book reading and trying to work my shoulder back into shape at the gym. Mary's been watching library movies and also making good use of her new gym membership. Can't complain about back-to-back four day weekends. Especially when the next holiday day off isn't for another five months.
Just took this picture (a couple hours after the one above). Weirdo.