It's a little mind-boggling to me how anyone can maintain their sanity working at a job for more than two years. I don't get it. Or maybe I've just been in the wrong line of work. I try to imagine a career where your work tasks are stimulating and engaging with enough creative freedom to keep you thoroughly invested. I try to imagine a work environment that morphs and doesn't tether you to an 8′ by 8′ off-white cube (florescent lights quietly humming with keyboards click-clicking in the background, interrupted by the occasional irritating idiosyncratic noise). Are there really people out there that forty-five minutes into Monday aren't thinking "Hey, only thirty-nine hours and fifteen minutes until the weekend"? Sometimes I'll read a magazine article about the best places to work and underneath pictures of smiling employees playing ping pong in the "game lounge" will be anecdotes about flexible time off to go surfing or energetic brainstorming sessions where input is genuinely valued. That must be nice.
The scale of possible moods at my job falls somewhere in the limited range between complete boredom even while working on a task (best case scenario) to simmering irritation at yet another asinine assignment or pointless meeting (not best case scenario). No high highs or low lows, just middling lows day after day. Days float by without anything of consequence happening and somehow this seems worse than a series of tragically unpleasant events at work. I mean I make the best of it, of course. I crumple up paper (to the irritation of coworkers I'm sure) and fire make-shift basketballs through the Tropicana box hanging in the corner of my cube. I figure out which character from "The Office" my coworkers are most like. I flick paper footballs through fieldgoals. I zone out quite a bit and think of places I'd rather be. Sometimes to get from the basement back to my desk on the first floor I'll walk outside and loop back up through the front door. It's all very exciting.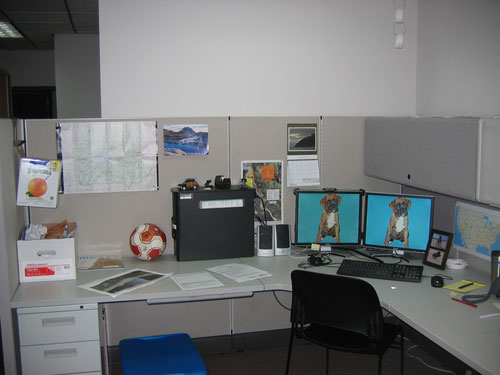 In May I will have been here two years. If I make it all the way to October I'll surpass my previous longest time at a job (two years, five months). I'm definitely at the point where the soul searching is starting again. I think it's hard not get contemplative when you've spent two years doing something without any passion for the activity. And yes, I get it that that is what you're supposed to do. Work and save, pay your bills, be grateful happy that you have a job in "these tough economic times". I don't really care about any of that though. Life is way too short to do anything that doesn't make you happy. Sure, I'm not suffering at work, but I'm not thriving either. Life is also too short to waste being bored. And I am bored out of my mind.
Back in '07 my argument to Mary for moving out here was that even though there was zero possibility of me enjoying an office job, the opportunity to affordably live near mountains and ocean was too much to pass up. We have to at least try it, right? Something new. Glorious weekends would more than make up for lousy work weeks. And really, the glorious weekend theory is still humming along and overall the west coast has been very good to us. I could probably ride out the desk job for another year or two if I choose to. And I might, but sometimes it's just good to shake up the complacency. Or at least think about shaking up the complacency. Even if it means moving somewhere not so dramatic. The whole economic implosion certainly hasn't made spontaneity any easier though. Yakima was delayed in feeling the housing crunch, but it definitely has hit now and a buyer's market isn't so great when trying to sell a house you've only lived in a couple of years. Ditto for new jobs. We'll keep our options open I guess and see what plays out. We do really like it here, so maybe I just need some summer weather again to keep me occupied and sane.